Just some quick sunday work, so far it's the only glass I made with opaque liquid, it made sense since bleeding jane == bloody mary. I used a "pulpy" normal map but it's not too visible unfortunately.
I'll try to get more done today but I overslept and it's getting late already, figured I would post now instead of waiting 2am.
I modeled two more glasses for the MixMaster. It is now able to make 12 drinks.
I also wrote more code to get recipes to check that the preparation has been followed (ice/age/mix/blend) but I'm gonna have to scrap this part. My intent was to give a hint that you didn't quite make the right drink, and that's currently what it does.
Result: 'Sugar rush' and 'Sparkle Star' have the same ingredients, so one of the two recipes overrides the other.
I have two options:
Keep it as it is and change the sugar rush or sparkle star recipe?
Make the preparation part of the recipe, but then I lose flexibility with drinks that have preparation errors.
Regardless, I also need to make two new bento hand poses, the hand opening is too small for the rocks glass and too big for the test tube.
I've spent an absurd amount of time detailing the glass code:
Custom animations, including bento finger poses.
Manual vs automatic drinking.
Named drinks have special flavors and descriptions.
"Custom" drinks have more generic flavors that depend of their composition.
Drinks have a set number of "sips" before the glass goes empty.
I also encountered a rather nasty rendering issue while making the final model for the highball glass. I can't really fix it so I kinda "worked around it" by using less transparent glass. It's not perfect but it's not too visible.
So that's a total of 4 recipes that are more or less "final" (unless I add some particle effects):
Glass of Nothing.
Marsblast.
Blue Fairy.
Custom Drink (I still need to fix the color generation there)
I got some of the basic functions I need for the "re-rezzing" of drinks (like for the vacuum system but a bit better), so they can be dropped and set on compatible surfaces (coaster… table?). I got "some" of the code to get them serialized into a tray, which, ideally would be drop-able too. So overall, good progress in 3 days.
But honestly, should I just take a break from this project and work on something "more KDC" for a while? If I'm counting this properly, between modeling, texturing and code this has been 5, maybe 6 weeks?
And this isn't close to finished. Even if I do not release the tray at the same time, there is still all the drinks, models, and RLV functions to make.
Feel free to IM me in-world with your opinion.
ADDED: Notecard based pen configuration.
ADDED: Tint adjustment for bruises.
ADDED: "Glow in the dark" setting for pens.
ADDED: Glowstick Juice pen.
FIXED: Texture alpha mode issue on all parts.
FIXED: Bad settings on the "Toy Boy" torso doodle.
FIXED: Bad settings on the torso tally marks.
Don't have it yet?
It's available from the SecondLife Marketplace and from the KDC Main store.
Quick reminder that, in order to conserve scripts, only the torso pieces are equipped with the updater script, but you will receive updates for all the parts regardless.
I think the new features for the doodle & strike are more or less ready.
Pens can be fully customized now: Name, description (optional), hardness, color and there is also a "glow in the dark" option 😀
I've also added a config option to set a tint for bruises to better match bruises to darker skins. Or non-human skins.
I'm going through a last round of tests while getting all the parts up to date.
I've fixed a couple of bugs with it so far (which no one reported apparently 😐).
I adjusted the fading formula so it follows more of a curve and remain inked for longer during the fading time. (blue == original, orange == adjusted)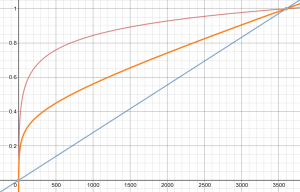 I'm trying to add a more flexible system for the pen selection rather than the fixed ones that are currently in use, but I've scrapped my code for the 4th time today.
This week has been a bit rough for me, I had to leave on Monday & Tuesday for family reasons and when I came back I was an absolutely wreck and slept through my muscle aches (lets just say I 'contributed' with sweat).
I've started working on the drinks and encountered "some" level of success: Darker liquids and rounded glassware tend to work the best with this. The highball glass… not so much.