Archive for the 'products' Category
This small patch fixes the "The cover is locked" error message showing up when you click a locked collar (instead of the shock box).
The Ayumi boots version 5 are out! On the menu:
Reduced memory allocation for some of the scripts.
Added UV maps for all you modders out there.
Added an alternate version for Avatar 2.0 fitmesh (v1.14+).
The demos have also been updated, so you should definitely check them out!
I made a handful of weird little cube mesh when I was building the school and decided to make them available to anyone 🙂
If you enjoy building in SL, you should definitely check out those little helpers: They are very efficient, low LI and don't crumple into nothingness from ten meters away.
You can grab them from the Main KDC Store freebie tables.
The lattice cage is finally updated!
Complete script rewrite.
Color script reduced to 24Kb.
Support for time padlocks and accessories.
Faster configuration updates using individual notecard names.
I recommend you quickly check how the new configuration system works, it uses multiple notecards and you RENAME them instead of changing their content.
Also the auto-unlock has been unified with the time-release padlock system so doors do not auto-unlock anymore when time runs out, you have to click the lock to physically remove it once the time has elapsed. (Assuming you CAN click it :P)
Merry Xmas to everyone, I am spend a few days with my family but I will be back shortly!
Added suspension animations for all the chaining rings.
Added time-release padlock support.
Added accessory support.
Fixed report messages when RLV is off.
Improved chain target tracking.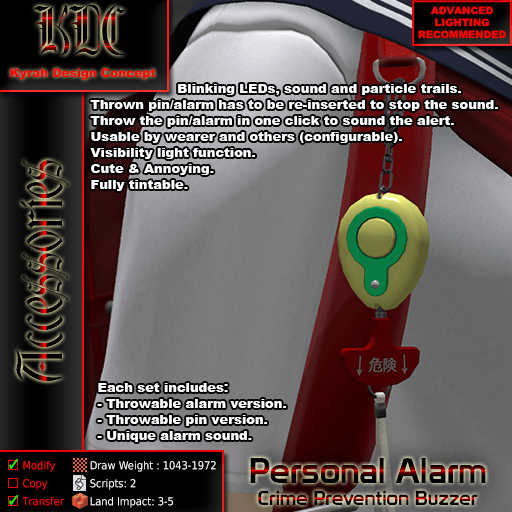 The picture on the vendor is actually a little wider (and contains more text) but square images work better here 😛
Those annoying little alarms are now released, under a "pay what you want" system! It's all explained on the vendor at the store, but because it's a little weird and not really compatible with the SecondLife Marketplace (I'm open for suggestions however).
There is 4 alarm shapes total, they all have a unique (and annoying) siren, are material enabled and fully tint friendly. I also added a "signal light" feature so you can turn the LED(s) on and off by clicking and holding the mouse down for 3 seconds.
I do realize this is very "off beat" compared to my usual products, but it's still a cute little accessory and cuteness is important 😛
Only from the KDC Main Store.
Enjoy!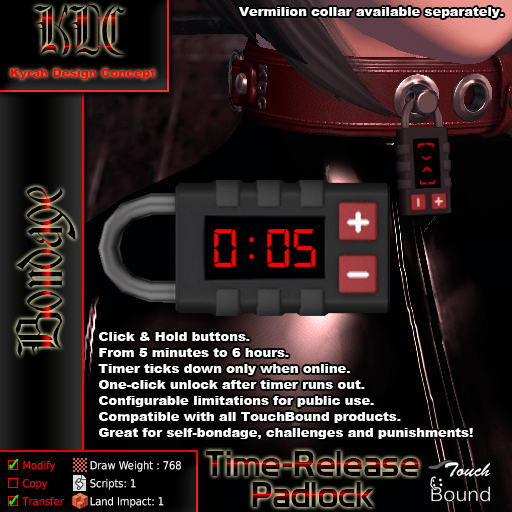 Now that (al)most of the TouchBound line support this, and after one last hard look at the code to spot any potential bug, I'm proud to release  the long overdue time-release padlock!
There isn't a whole lot I can say about it, it isn't really designed for long-term given that it is capped at 9 hours, it also has a couple of configuration flags, you can read the notecards or check the documentation wiki for details about that.
It isn't that I don't want to enable people who want "long play" timers, but I believe that it is gonna require a dedicated lock, with a proper key bypass.
Meanwhile I hope you'll find creative ways to use this one 🙂
The lined chrome chastity belt, lattice cage, piercings and isolation headphones do not support time padlocks yet, for all the other items, please double check that you have the latest update!
As usual, you can get it at the KDC Main Store or from the SecondLife Marketplace. Enjoy!
Almost all the TouchBound products should be updated to the latest code revision, with the exception of a couple that require some extra work to convert them to the new system.
Sorry in advance for all the update messages 🙂
The following products have been updated:
Lined chrome collar v39
ER Chrome collar v39
Classic posture collar v14
Heavymetal collar v13
Shock collar v13, (Also added an error message when a locked shockbox is clicked).
Braced collar v10
Tasanee v7
PonyPlay bridle v31
KDC "4 rings" PonyPlay bit line v37 (Also added a toggle for the drool particles)
Given the amount of things that still need updating, I'll try to be less verbose with those posts from now on.
Today the following products have received a general system upgrade (new future lock support, chain bug fixes, click action support, etc…) Check your change log for details 🙂
KDC/Ai Basic leather armbinder.
KDC Classic pet collar.
KDC/ER Chrome thigh cuffs.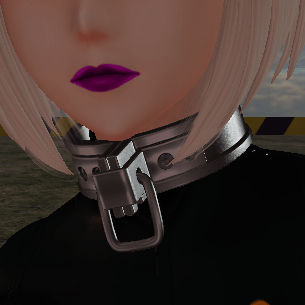 Addendum
The Fallen Princess Collar also gets an update, you now get a "square" ring version too.
Enjoy 🙂