Archive for the 'product updates' Category
ADDED: Notecard based pen configuration.
ADDED: Tint adjustment for bruises.
ADDED: "Glow in the dark" setting for pens.
ADDED: Glowstick Juice pen.
FIXED: Texture alpha mode issue on all parts.
FIXED: Bad settings on the "Toy Boy" torso doodle.
FIXED: Bad settings on the torso tally marks.
Don't have it yet?
It's available from the SecondLife Marketplace and from the KDC Main store.
Quick reminder that, in order to conserve scripts, only the torso pieces are equipped with the updater script, but you will receive updates for all the parts regardless.
I think the new features for the doodle & strike are more or less ready.
Pens can be fully customized now: Name, description (optional), hardness, color and there is also a "glow in the dark" option 😀
I've also added a config option to set a tint for bruises to better match bruises to darker skins. Or non-human skins.
I'm going through a last round of tests while getting all the parts up to date.
I've fixed a couple of bugs with it so far (which no one reported apparently 😐).
I adjusted the fading formula so it follows more of a curve and remain inked for longer during the fading time. (blue == original, orange == adjusted)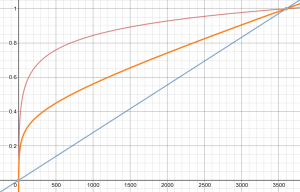 I'm trying to add a more flexible system for the pen selection rather than the fixed ones that are currently in use, but I've scrapped my code for the 4th time today.
I forgot about this one I think. So here it is~
Support for time-release padlocks and accessories.
Improper permissions on headphones and HUD (should be proper copy/mod now).
Configuration flags for extra options (check the headphones inventory)
Simpler Hud/Headphones communication.
Nearly complete rewrite to use the new TouchBound codebase.
I would have added ALM materials however it makes the headphones revert to flat colors when used without ALM so I decided against it.
This is old, but aparently I have the memory of a goldfish.
Back when I wrote the time padlocks, I've also added the "click and hold" function to all the keyed padlocks… Aaaand then I forgot about it.
So now all new locks should use the new code 🙂
I added a new "bento mouth" animation, this one doesn't get stuck open with some of the bento heads out there.
CHANGED: The blinding effect isn't as hard on the eyes anymore.
ADDED: cfg_ScreenEffect to manually set/disable the RLV blinding effects.
ADDED: cfg_ScreenPixelate to further limit visibility through pixelation.
The Manual has also been updated to reflect those changes.
FIXED: Bug in the hud's color preset system when adding new entries.
FIXED: Screen effects don't clear on detach with Marine's RLV.
CHANGED: cfg_PublicStyling=YES becomes cfg_PublicStyling=Yes (for the sake of consistency).
CHANGED: When cfg_ScreenEffect is changed, the screen effect will update immediately.
CHANGED: HUD->Hood communication protocol has changed.
ADDED: cfg_ScreenPixelate to further limit visibility through pixelation.
As usual, you should be notified by the updater, enjoy 🙂
This small patch fixes the "The cover is locked" error message showing up when you click a locked collar (instead of the shock box).
The Ayumi boots version 5 are out! On the menu:
Reduced memory allocation for some of the scripts.
Added UV maps for all you modders out there.
Added an alternate version for Avatar 2.0 fitmesh (v1.14+).
The demos have also been updated, so you should definitely check them out!