Archive for the 'product updates' Category
This small patch fixes the "The cover is locked" error message showing up when you click a locked collar (instead of the shock box).
The Ayumi boots version 5 are out! On the menu:
Reduced memory allocation for some of the scripts.
Added UV maps for all you modders out there.
Added an alternate version for Avatar 2.0 fitmesh (v1.14+).
The demos have also been updated, so you should definitely check them out!
The lattice cage is finally updated!
Complete script rewrite.
Color script reduced to 24Kb.
Support for time padlocks and accessories.
Faster configuration updates using individual notecard names.
I recommend you quickly check how the new configuration system works, it uses multiple notecards and you RENAME them instead of changing their content.
Also the auto-unlock has been unified with the time-release padlock system so doors do not auto-unlock anymore when time runs out, you have to click the lock to physically remove it once the time has elapsed. (Assuming you CAN click it :P)
Merry Xmas to everyone, I am spend a few days with my family but I will be back shortly!
Added suspension animations for all the chaining rings.
Added time-release padlock support.
Added accessory support.
Fixed report messages when RLV is off.
Improved chain target tracking.
Almost all the TouchBound products should be updated to the latest code revision, with the exception of a couple that require some extra work to convert them to the new system.
Sorry in advance for all the update messages 🙂
The following products have been updated:
Lined chrome collar v39
ER Chrome collar v39
Classic posture collar v14
Heavymetal collar v13
Shock collar v13, (Also added an error message when a locked shockbox is clicked).
Braced collar v10
Tasanee v7
PonyPlay bridle v31
KDC "4 rings" PonyPlay bit line v37 (Also added a toggle for the drool particles)
Given the amount of things that still need updating, I'll try to be less verbose with those posts from now on.
Today the following products have received a general system upgrade (new future lock support, chain bug fixes, click action support, etc…) Check your change log for details 🙂
KDC/Ai Basic leather armbinder.
KDC Classic pet collar.
KDC/ER Chrome thigh cuffs.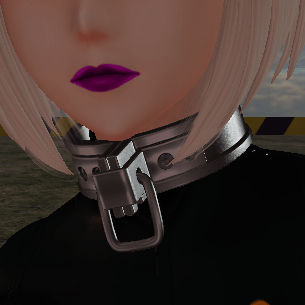 Addendum
The Fallen Princess Collar also gets an update, you now get a "square" ring version too.
Enjoy 🙂
I'm truly sorry if you hate patches, but this is just how it is going to be 🙂
General bug fixes & system improvements:
Added click actions, Alpha masked root prims (quicker to render than alpha), timelock and accessories support, updated updater, chain sync bugs, etc…
Ayumi boots.
Classic wire muzzle.
Classic pet muzzle.
Classic leather belt.
Heavy metal headcage.
Warden straitjacket:
All of the above.
Fixed! A lock and strapping interaction bug that could get the jacket stuck in a "locked but untied" state.
New! Now you can start the struggling minigame even if there is no chance for you to get free (if the sleeves are locked).
Fixed! Somehow you could free yourself from the jacket if it was locked and strapped at tier 1.
Slightly improved the click zones with a better D ring and back-lock click proxy.
I accidentally (yes) patched the Fallen princess collar, before I was actually done with a small feature I'm adding to it.
I also (not accidentally) patched the Vermilion set for the previously mentioned bugs and I'm also rolling out click action changes. If the viewer you are using is recent enough, the cursor should only change to a "touch" cursor when it is above a touch point.
Corrects a few issues and improves the detach reporting when the user is not in RLV mode.
Removes a script that wasn't supposed to be here.