Archive for the 'Uncategorized' Category
Low-poly, unwrapping & textures are done! I'm really trying to put down as much work as possible to get this project complete in time, only 3 days left if I want to stay on my regular Halloween schedule. Unwrapping was relatively quick, there isn't anything really tricky here, and thanks to the amazing UV Pack Master 2 Pro, getting everything laid out with maximum texture usage efficiency only took a couple of minutes ( I hate payware addons but if there is one that is worth buying for Blender, that's the one ).
I've finished the low-polygon model over the weekend, unwrapped everything on Monday & did the textures & in-world tests today. I ended up adding this chain link for… no real reason other than the fact it looked like it belong here. I'll probably make it work as a standard front-collar chaining point, you know, one with no explosions…
It is more than likely that I will use some sort of soft-locking like the muzzle plugs. Unless someone can convince me to make something more complex… which can be completed with what little time I have left.
I still need to finalize the models & make LODs for them, that's the plan for tomorrow… or tonight?
I've played with a lot of random ideas for furnitures the past week or so. I'm trying to come up with interesting designs and/or improving existing real-life ones.
I also started working on a micro-bikini of my own. I'm sure there is something like this already for avatar 2.0 but I'm just going to assume it is either terribly made, or with bad permissions.
As usual, my expectations are low…
I've finished LOD-ing everything for the ballgag project, all the final models are uploaded (18 parts total, it's adjustable but no one said it was gonna be easy right?) and re-assembled in SL.
I had to eyeball everything since all the parts have been angled to make them easier to scale in length.
Ignore the texture stats obviously, I have to finish up the final texture uploads, and then it's code time!
Cell door progress woo!
I've now gone through round after round after round of texture tests.
There is a limited amount of detail I can add on such a large piece without blowing the texture budget and it also had to be tintable.
…Or at least tint-friendly?
I've added a bunch of little normal mapped details here and there:
Rivets on the front and back.
Friction reduction rails on the window shutter path.
Ribs on the shutter itself.
Grip-style latch on the shutter handle.
Indentations on the door edge where the deadbolts retract.
Dishing on the backside of the shutter… because why not.
You can also pick between glass or bars on the window opening.
Furthermore, the actual texture is "light" enough to be color matched with the cell framing beams and can support a fairly wide range of colors through tinting.
In all honesty, I'm probably forgetting some things, I always do 😛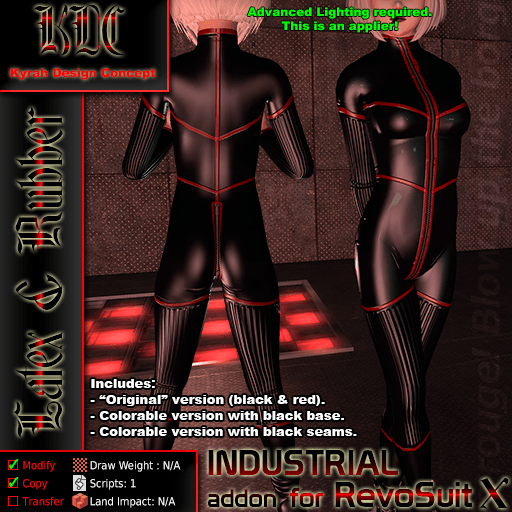 Finally out! It took longer than I had anticipated, it was an excuse to dive into blender 2.80 as I mentioned earlier, it took quite a bit of work to get everything working again. Overall I think it's pretty different from the other styles. I'm happy with it.
As usual you can grab it from the KDC Main Store or from the SecondLife Marketplace, enjoy!
In true Kyrah fashion, I don't know what I'm doing.
I initially did my best to "erase" the mouth indentation of monday's draft, thinking a panel look would be more pleasing… But because of the extra space around the lips it makes the mask quite loose when there is a cutout there.
So I tried to pull it back around the mouth again, and the fit is a lot closer… but now I have the lips marking the hood surface again and I do not know if I like that.
I also made the neck part as short as possible… It will clip no matter what but at least I can try to minimize it.
And more texture tests. I made the seams and accent too thin. Open mouth pose looks somewhat acceptable but I'll have to be extra careful with the 'open mouth' texture stretching in the lowpoly.
Probably not healthy but here are the results!
(Super shiny because I accidentally rendered the textures much darker than I should have, will be fixed)
All it really needs now is to be rigged and the different chest sizes. I might get on that next monday unless I work on something else.
I think I earned a nap…
I'm really not a fan of Cycles render when it comes to baking textures.
Yes, it looks absolutely amazing, yes it's a lot fancier than Blender. But the PBR aspects means that I get much less control on the baked result, especially for shiny materials or when I want the baked result to look a certain way that isn't necessarily realistic.
At least I did not spend the entire day on this and also got some low poly modeling done.