Archive for the 'Uncategorized' Category
The different bento mouth poses for the heavy metal gag are done, everything is debugged (to the best of my ability).
I've done a last bit of memory optimization on the core script, just to be on the safe side of things, and some completely unneeded changes to the gag configuration parser (just because my OCD made me do it).
I think I'm pretty much done with this project?
The (almost) completed prisoner uniform jacket low-polygon model clocks at about 5300 triangles. I'd like to push it lower, but it appears to be on part with the school uniform I did before, so there probably isn't a lot to remove really. The elbows still need some work and so does the bottom edge of the jacket (where you can see below it).
Or so I thought! Looking at the parts of the pants I had completed, the two aren't quite matching, so that's another thing I need to fix if I'm going to have any hope of the two layering neatly on top of each others.
There is always something, isn't it?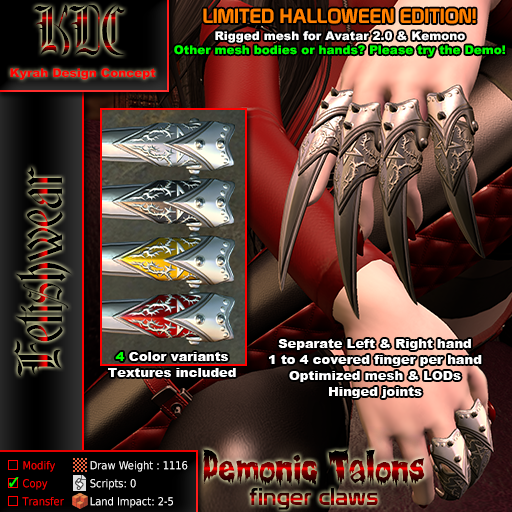 It is that time of the year again~.
Time for tricking and treating, and an excuse to embrace the pale moonlight glow once more! I decided to release a day early this year because Saturday seemed just a little too late in the weekend. That and I've also been sitting on it for a couple of days now as I severely undershot my planning for once.
As with the past years, all my other Halloween projects these are available for a limited time from October 15th to November 15th (Patreon supporters can get them all for free all year long).
As usual, you can pick those from the KDC Main Store, or from the SecondLife Marketplace.
Happy Halloween everyone!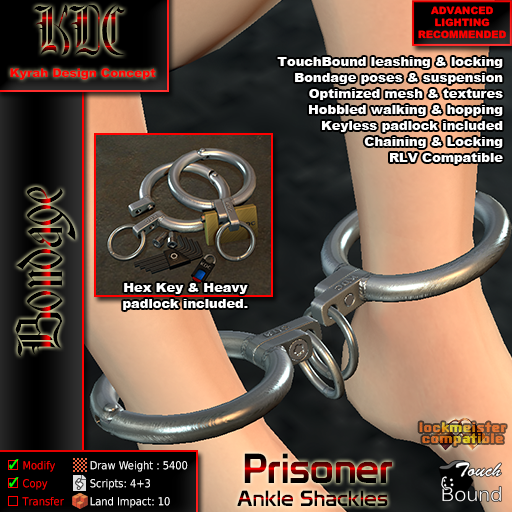 The Prisoner Ankle Shackles are out! Now you can all indulge in your worst(best) prisoner camp/chain gang fantasies! (the wrist ones will come out soon, I promise)
These support all your expected TouchBound functions, Allen wrenches, heavy padlocks, accessories, hobbling, chaining, suspension, binding, etc… etc… Check the manual for more details.
As usual, you can find these puppies at the KDC Main Store (10% off) and on the SecondLife Marketplace.
There is also an update…
For the KDC Prison Cell, Narrow Prison Cell and Padded Cell.
It addresses a fairly important furniture bug I discovered today that affects all my experience-based furniture that have anchor points (and all 3rd party modifications which add parts to the link sets) where the height adjustment function would stop working, it is a simple drop-in script replacement, if you don't want to start fresh again.
Enjoy!
I have finally put together some kind of metal material that looks about right for this type of collar/cuff, I did a quick bake test (second picture) and it appears to hold "relatively" well. I have added a scratch layer that shows through with a wear map, and some coloration variations in an effort to make the welds more visible.
Today's update also include two random things. (I saw a latex pig mask in a fetish photo that I thought actually looked nice, but I am not sure if I can quite do justice to it)
More padded cell progress! I'm so original with titles, isn't it?
I've unwrapped all the cell padding and done some test normal/texture baking. It pretty much looks identical, so this is another case of me trying too hard… I guess? The mesh "faces" I reclaimed from the floor/walls of the cell are just enough to have the door side pads, the walls, and the accent pads.
I've also started to modify the low-poly door, I'm wondering if I should make those door pads even thicker, I'm just not sure that it is going to clear the doorframe anymore if I do. It is also going to eat an extra mesh "face" and I don't really have any spare unless I remove the bars from the window and go for glass-only.
I have finally decided to start working on a padded cell variant of my modular cell unit.
The design is VERY inspired by the amazing art of tangdraws. Go check his work, it is just that great. Somehow the tan padding has this sort of "Alien" (the movie) vibe?
I'm trying to get a good layout for the padded tiles, none of the internal dimensions of the cell are falling quite "right" to get a perfect grid, so I'm cheating here and there.
The left side of the door still upsets me…
The door itself will probably look like the regular cell door from the outside, without the bottom hatch, but I want to keep the middle hatch to give prisoners a "chance" to escape.
I've done more thong weightpainting for the past two days…
I thought I was more or less done with the thong but it turns out that I forgot the mapping to account for the belly slider.
If that wasn't enough, I did not properly test the deformations when both legs are bent (sitting) and it really really looks bad… I am not sure how I'm going to fix it because it looks like that due to the limit of 4 weights per vertex, and to fix this I have to add left and right leg weight on the centerline, which is already affected by the pelvis, torso, and the PELVIS deform bone: That's 5 weight groups with the legs.
I MIGHT be able to get rid of most of the vertices on that center line but not all of them because the little piece of fabric is triangular.
I haven't transferred the side ties to the "strap" version yet, but that's not really an issue, once it all works with the thong, it will work for the "strap" too.
Low-poly, unwrapping & textures are done! I'm really trying to put down as much work as possible to get this project complete in time, only 3 days left if I want to stay on my regular Halloween schedule. Unwrapping was relatively quick, there isn't anything really tricky here, and thanks to the amazing UV Pack Master 2 Pro, getting everything laid out with maximum texture usage efficiency only took a couple of minutes ( I hate payware addons but if there is one that is worth buying for Blender, that's the one ).
I've finished the low-polygon model over the weekend, unwrapped everything on Monday & did the textures & in-world tests today. I ended up adding this chain link for… no real reason other than the fact it looked like it belong here. I'll probably make it work as a standard front-collar chaining point, you know, one with no explosions…
It is more than likely that I will use some sort of soft-locking like the muzzle plugs. Unless someone can convince me to make something more complex… which can be completed with what little time I have left.
I still need to finalize the models & make LODs for them, that's the plan for tomorrow… or tonight?
I've played with a lot of random ideas for furnitures the past week or so. I'm trying to come up with interesting designs and/or improving existing real-life ones.
I also started working on a micro-bikini of my own. I'm sure there is something like this already for avatar 2.0 but I'm just going to assume it is either terribly made, or with bad permissions.
As usual, my expectations are low…