Archive for the 'Random thoughts' Category
I've remade all the iron grip gag mouth poses properly, improved even (IMHO).
Next step is to check with other heads and make 1 or 2 alternate sets if needed.
I started the metal gag code, and I am working on some … kind of extendable approach, how can I explain this…
I'm effectively making the code that handles the different gag variants modular, which should make it possible to just "add" new ones later, or even create custom ones, I'm not entirely sure why I am doing this, other than reducing how much "snowflake code" having 4 different gags in one is creating.
This is also an opportunity to potentially code a bit better, go over old ways of doing things, using new functions, that sort of stuff. I thought I could wrap this up before the weekend, but that's a little too optimistic.
Twitter appears to want a fairly large set of rights on any picture uploaded on their service, and I'm not sure that I want to give them those rights, so I'm considering adding some sort of watermarking, or maybe stop sending pictures to twitter entirely when posting updates. We'll see.
I haven't gotten a lot done, and my sleep cycle has been an absolute mess.
I did do some code to expand the miniATM features with a completely optional little "debt" system. It is almost complete, but I still have to iron out a few issues.
As you might have seen in the group notices, I also touched up the MixMaster a little, just not enough to roll out a proper feature update yet.
As you all probably noticed, I took a little break from work for the past few weeks. I'd like to think that it did me some good.
I'm preparing a few updates for existing products, I don't want to go too much into details, but a handful of items need code updates to either finally make use of new SL features, correct issues, and/or improve existing behaviors.
The lattice cage for example is due for a small update to optimize its construction a little with an improved door mesh, fix some RLV-related problems, but also add a couple of owner features to integrate them better in existing playspaces.
It hasn't gone amazingly well so far, I appear to have some sleep/concentration issues that are making these modifications harder than they should be. I will eventually get over it, as I always do. But well this is my little explanation, ie: "I have not left SL guys."
Completely unrelated topic, I'm told gachapons (gachas) in SecondLife are going the way of the dodos and that is great news as far as I am concerned. I assume Linden Lab was held at proverbial gunpoint for that to happen. It is unfortunate that this staple of Japanese culture has to be completely banned, but it was completely out of control.
I have been a bit quiet lately, there were a lot of things I had to do IRL.
I visited my family for a few days on easter and it took a day to "recover" from it, it was a good time but very exhausting.
I've been trying to bring back my kanji lessons schedule under control (spaced repetition can get pretty wild if you stop following it for a few days) and that means that I've spent a lot of days essentially studying most of the day.
And after that there was a lot of long long overdue spring cleaning, trying to make my tiny apartment a liveable space again. To be honest, this is something I should not have allowed to accumulate, but you never really pay attention to it until after the facts. At least I did not wait until summer for this.
With my place now in a somewhat liveable state, I've been experimenting with VR a little. Room-scale is certainly a challenge when you live in a place that isn't much bigger than some people's walk-in closet. I'm not leaving SL don't worry, this is mostly an opportunity to spend less time in a chair and be a little more "active".
I did put down some work for KDC still. Since the change to the keyless padlock, I wanted to rewrite the fingerprint padlock, to essentially provide the same features it does currently, but better and clearer. Those that hang out in the KDC Mailing List Group probably saw me talk about it.
The real actual "change" is the addition of a built-in way to erase a fingerprint padlock without having to reset the script. People already would reset them all the time, why not spare them the trouble. Everything else is more focused on trying to make the way they lock and unlock as transparent as possible.
The other thing I want to do with it is fixing some of the problems the original texture had. I was under time constraints back then and did not take the time to really finish it up the way I should have.
And maybe make a couple more colors, so long as it remains visually different from the keyless model.
I'm not sure how I feel about this year…
Granted we all have the excuse that it was a very "special" year. In a way it is also not an excuse.
I don't know what to think of the work I've done this year, on one hand, I did release a few good items, but on the other I could probably have done more? I've neglected the Patreon stuff quite a bit, and did close to no work at all on my game.
In my defence, I guess 2020 was the year of "product updates & experimentation", and I'm not saying that JUST for the more recent stuff 😛
So let's all sit back, relax, and have a comfy new year celebration. Next year will be better. Next year I'll do better.
See you all on the other side!
Once again, the party U-boot has docked on the Dead Realm pier!
Everyone is invited to celebrate Kyrah Abattoir's 16th Rez-Day!
When: 06/13/2020 11:00 am SLT
Location: Dead Realm pier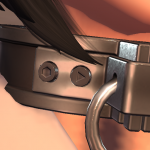 I've added support for multiple bolt faces to the collar… but I'm not sure how I feel about the look of those. They don't really "pop" enough in my opinion.
I've also done some extra "on/off" animations for the mending plate getting installed.
Nothing major but I'm starting to wonder how I'm going to handle items that are bound to the collar front ring, when said ring "goes away" (gets removed)…