Archive for the 'TouchBound' Category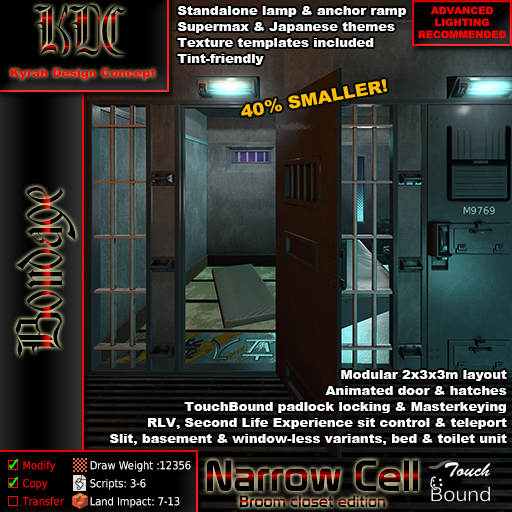 It took longer than I would like (I always say this…) but here it is, the KDC Narrow Cell is out!
Function wise it has the same features as the full-size variant but comes with one additional theme inspired by one of my favorite Japanese artists and two window variants (as well as a windowless version) If you aren't familiar with it already I'd recommend checking out the manual.
I've priced it a little lower than the full-size cell because well… it IS smaller and I expect people won't find as much use for it, unless you are specifically looking for something not much bigger than an utility closet, or to save space. Despite being smaller it doesn't really use less LI when placed, I'm sorry about that but there isn't anything I can do about it without butchering the LODs.
As usual, you can find it at the KDC Main store (10% off and a live demo area) or on the SecondLife Marketplace.
Enjoy!
Allright… This has gone for long enough… The Fingerprint Padlock was supposed to be the simple, trouble-free, default option when someone first tries the TouchBound system.
But the reality is that it really isn't doing a good job at this.
So lets break it down point by point:
👍 You can't lose the key.
👍 The internal imprint allows some form of self bondage.
👎 Keyed padlocks and time padlocks are more suited for self bondage & escape games.
👎 Identity imprint are a one time thing and doesn't survive resets.
👎 It is too complex for something supposed to be the "basic" lock of the TouchBound system.
A little while ago I passed around a "beta" version of a "Public padlock", I received some good feedback from it and therefore, I'm starting to believe that it might be time to do something with it.
Breakdown of the public padlock:
You can't lose the key.
Whoever locks is the only person that can unlock.
No configuration is required.
The name of the locker is always visible on the locked item's infobox.
It can be used by anyone if worn on a non-hud slot, no "give your locks" required for play.
So there you go everyone! Time to make your choice 😛
What should I do with the Fingerprint Padlock?
Don't change anything. (8%, 7 Votes)
Make the Public Padlock the new Fingerprint Padlock. (28%, 25 Votes)
Keep it for sale, but ship products with the Public Padlock instead. (64%, 57 Votes)
Total Voters: 89

Loading ...