Work has gone relatively well Monday, Tuesday was a bit busy because someone wanted to buy an old model of mine and I had to do some prep work for them.
This is a fairly decent low-poly model in my opinion, unwrapping it with minimal distortion and minimal seams is a bit of a pain on the other hand.
I did not sleep last night, so I'm going to need some shut-eye to recover that today. I will try to catch up and get something good enough to do some test renders.
I did some more work on the shackle set, added some welds, some interlocking pegs, and even variants sized for wrists & ankles. To be fair, this project was mostly going to be the ankle piece, but it works for wrists & neck too, right?
I didn't check my measurements initially and my scale test in-world turned out way off, so I re-modeled the wrists & ankles pieces to get them a bit thinner.
I started working on a new metal collar project! The idea behind it is, well something sturdy, unyielding but also rounded and low profile. Heavy lock support wasn't really planned, but if it fits…
The rear hinge is the bit that took me the longest to get "just right" (weird annoying shape). It still needs some welding on the front.
I could also add a registration "tenon & mortise" between the locking flanges, I'm not sure yet. It more or less looks the part, as with all models, texturing is everything.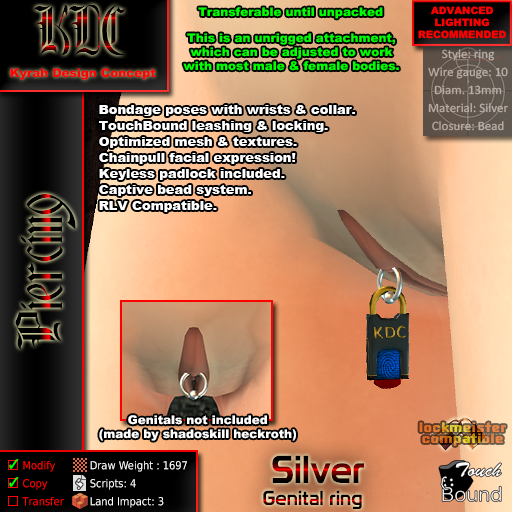 A quick release for once! The genital ring adds a couple more bondage poses to the system, namely wrists to genitals and another stooped stance when chained to a collar ring. It uses the "pelvis" LockMeister anchor target, and won't conflict with any existing item.
As with the other piercings, it uses the captive bead system and the Piercing Tool and supports all the typical TouchBound accessories & standard locks. And as with the other piercings, it also comes in a "light" version for those that only want the base features/interactions.
As usual, you can get it from the KDC Main Store (10% off in-world), or from the SecondLife Marketplace.
Enjoy!
Once again, I'm focusing on the "Lined Chrome" set so that if new problems crop up, I don't have to patch three dozen products a second time.
Products being updated:
Lined Chrome collar.
Lined Chrome wrist cuffs.
Lined Chrome elbow cuffs.
Lined Chrome thigh cuffs.
What is new?
The suspension reservation bits did not include all the required limbs, now it locks all spine affecting poses (specifically stooped poses).
Some suspensions also did not lock the right bits between the left & right side, preventing some compatible poses to be played together.
Likewise, some elbow poses locked the wrong bits, again, preventing the use of some compatible poses.
Wrist & spine poses for the (coming soon) genital piercings.
And that is all for today ~
I'm not sure how to make a tasteful picture of this 😀
Long story short, trying to adapt my current piercings to be used genitally. I know some people already do that "unofficially" but those will have the proper LM identifier and wrist binding animations. I have a working prototype for the "silver ring" style, still trying to get the U shackle style to look "right" for this, it might or might not in the end.
A big thank you to everyone who showed up for my Rez-Day party and no worries to those who couldn't, that's okay.
I'm absolutely exhausted (7 HOURS?!).
Let's have another one next year right?
As has been the tradition for the past couple of years, I am organizing a little Rez-Day party to celebrate 18 years enduring Second Life.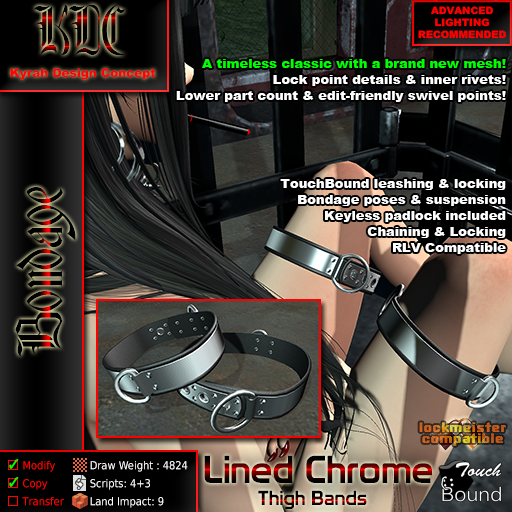 (I really like how the new product picture came together)
This update to the lined chrome thigh bands finally brings the remake of the lined chrome serie to a close!
New optimized meshs, suspension poses, better click zones, sit-lock, and other bug fixes.
As usual, these will be delivered through the auto-updater, but if you don't have it yet, you can get it from the KDC Main Store (10% off) or from the SecondLife Marketplace.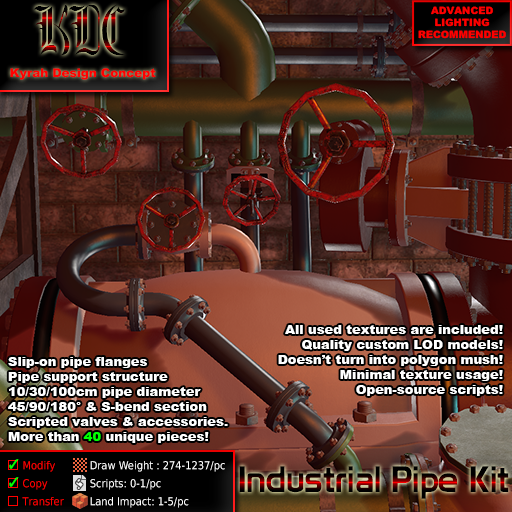 Just a few more parts, right?
It isn't on the updater because I'm not very smart, so I've issued a global re-delivery for marketplace buyers.
For those who bought it in-world, you should message me to get an updated package.