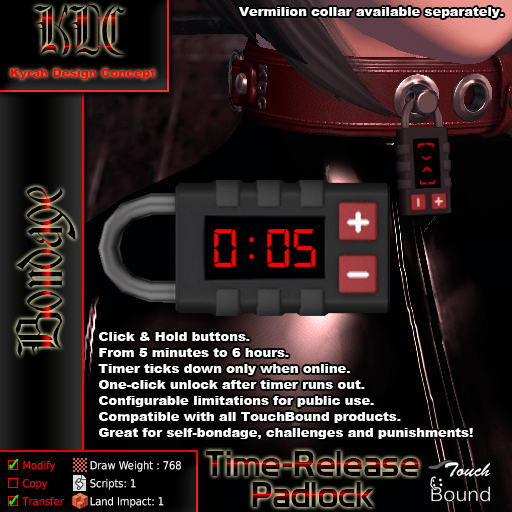 Now that (al)most of the TouchBound line support this, and after one last hard look at the code to spot any potential bug, I'm proud to release  the long overdue time-release padlock!
There isn't a whole lot I can say about it, it isn't really designed for long-term given that it is capped at 9 hours, it also has a couple of configuration flags, you can read the notecards or check the documentation wiki for details about that.
It isn't that I don't want to enable people who want "long play" timers, but I believe that it is gonna require a dedicated lock, with a proper key bypass.
Meanwhile I hope you'll find creative ways to use this one 🙂
The lined chrome chastity belt, lattice cage, piercings and isolation headphones do not support time padlocks yet, for all the other items, please double check that you have the latest update!
As usual, you can get it at the KDC Main Store or from the SecondLife Marketplace. Enjoy!
3 Responses to "The Time-Release padlock is finally released!"