I started the day with the idea of using kind of a "3-way buckle" thing to connect everything together but it looked weird and didn't match the O-rings used on the corset so I scrapped them and ended up with this result after a few hours. The shorts/legs will also have keepers to hold the straps, I just haven't made them yet.
I wonder if the shorts are a little too juicy now…
This was a quick project but it gave me a little breather from the corset outfit for this week. It is basically an alternate mesh wire muzzle built on the Classic Leather Pet Muzzle harness. It offers a clearer view of the wearer and a "leaner" look for those who prefer that.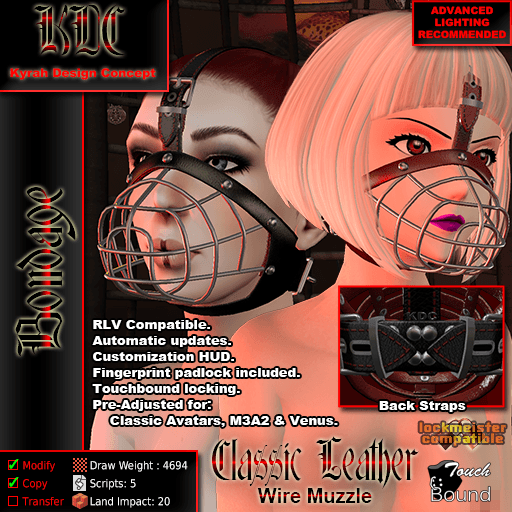 As usual you can find it on the SecondLife Marketplace and the KDC Main Shop.
This is probably premature but worst case scenario: it gives me a place to post updates rather than spamming friends individually with images.
Oh yeah, I'm making a video game by the way. I've also put a link on the sidebar.
It's a side project so don't expect daily updates or anything like that.
This might not look like much but after drawing a few 2D mockups I ended up reshaping the corset again, trying to get the right "feel" is quite a pain, I adjusted the waistline some more and narrowed down the sides again. Those pictures are the result for today.
Oh yeah also added the zip channel on the lower body.