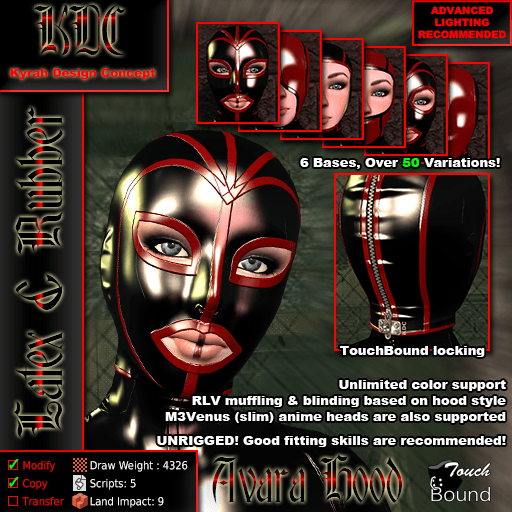 It is me again, with yet another Avara Hood update! (please don't hate me…)
This update is part of the bigger push I've done to modernize and unify my blindfold effect, you've seen it with the classic leather blindfold, well it's now the same effect with the Avara Hood.
The other big improvement is that I've finally implemented a change in how style cards work that makes the styling menu a lot easier to navigate, and a lot faster too.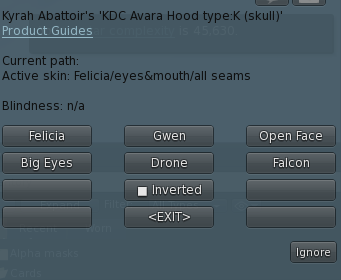 Hood styles are now stored in pairs, as about 2/3rd of them have a matching inverted pair, you now have a dedicated button that inverts the currently active style. And for styles that don't have an inverted version? Well it doesn't do anything.
I've also changed menu traversal, so it requires fewer clicks to go around between categories and sub-categories.
All of this also means there is about 1/3 less style cards the script has to parse, which speeds up rebuilding the menu, and leave room for… More styles to come, I have a few ideas.
Because the new style card format is not compatible with the new hood, the new updated cards start with "skin2" and the old ones with "skin". The new hood ignores the old cards, and the old hood one ignores the new cards… perfect, right?
Only those aren't served by the updater… right, because I did not anticipate that it would ever be needed. I've already issued an automatic re-delivery for the marketplace purchases of the Malefica and Halloween Ghoul add-ons (If you got it from Patreon, you should go get the update from the gift terminal). For the in-world store on the other hand, I'm going to have to do this manually, so please IM me if I somehow forget to send them to you!