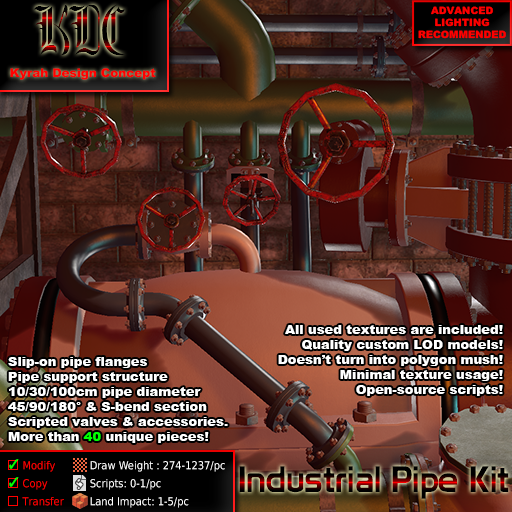 It is finally out! 3 months of my life I'll never get back. (I can't wait to actually USE it in my sim however!)
All custom hand-made LOD models, for a crumple-free experience!
Extremely low texture usage with an emphasis on reuse (all the textures are included and full-perm)
"Slip-on" flange system! A lot less precision required.
A good selection of turns in 45, 90 and 180° in 3 different turn radius as well as S-bends.
A big selection of pipe valves from tiny to gigantic.
Support frames! Because pipes don't float.
Click & drag valve scripts (but also a simple on/off alternative, scripts are opensource too)
This kit is tint & texture friendly: Many parts have as many as 8 individualy texturable sections.
Before you get the kit, check out the Manual, for a breakdown of the content.
Land Impact: 0.5 to 5 per part.
Complexity: 274 to 1237 per part.
As usual, you can get it from the SecondLife Marketplace or from the KDC Main Store (and cheaper too!)
Enjoy!